Wooden Cutlery Set Buying Guide
Share
Issue Time

2022/10/25
Summary
Disposable cutlery allows us to eat takeout anywhere. To choose the best type of wood cutlery set for your business, read our buying guide to learn about the different types of cutlery sets.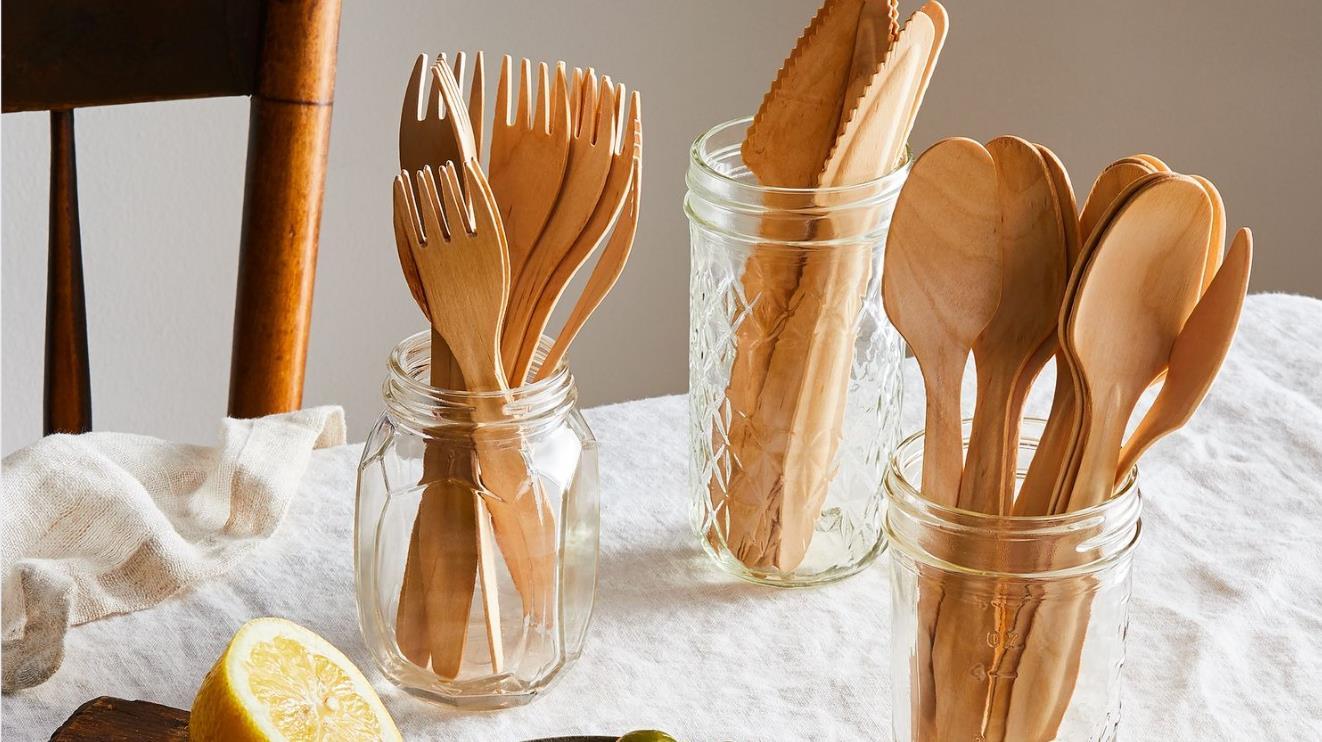 Since its invention, disposable cutlery has been designed for customers to eat takeout anywhere. However, this cutlery is not just for the convenience of your customers. When packaged in a variety of sets, cutlery sets can simply fit into a takeaway bag to eliminate the hassle of your staff finding the right cutlery to accompany a meal.
Cutlery sets that include forks, knives, and spoons complement any meal, ensuring your customers never miss a piece of cutlery. To choose the best type of wood cutlery set for your business, read our buying guide for different types of cutlery sets.
What are the different types of cutlery sets?
In the food service industry, there are two types of disposable cutlery sets:
Cutlery pack - A set of various cutlery, sometimes including napkins, usually wrapped in plastic or paper.
Retail package - A set of boxed cutlery that contains a large number of cutlery.
How many pieces are in a cutlery set?
Depending on the supplier, each cutlery pack will have two to five pieces. Some sets only include a fork with a napkin, while others may have a fork, knife, spoon, and napkin. Retail cutlery kits consist of ten or more assorted pieces.
What is a full set of cutlery?
While cutlery usually consists of five pieces (fork, knife, salad fork, teaspoon, and spoon), cutlery sets include the most important pieces (fork, spoon, knife, and napkin) to make the package more compact. Due to their disposable nature, cutlery sets are more suitable for informal or semi-formal events.
Whether wrapped or unwrapped, most disposable tableware is made of plastic or wood. Plastic utensils are considered bad for the environment, so wood utensils are now the most popular in restaurants and gatherings. Cutlery made from natural wood is strong, sturdy, and eco-friendly, and some are even made from sustainable bamboo.
Wooden cutlery sets can be made from different types of wood such as birch, bamboo, pine, poplar, etc. If the wood is natural, unpainted, and free of chemicals, it can be composted. Due to their high heat resistance, wooden utensils can be used to enjoy a variety of foods. They are also very sturdy and will prevent cracking during use.
However, not only do wooden cutlery sets have a sturdy and eco-friendly construction, each piece has a unique wood grain pattern that gives your venue a rustic feel. You can find many types of wooden cutlery sets, such as packed cutlery sets, bundled cutlery sets, retail sets, travel sets, and even handmade sets.
One of the best things about wooden cutlery sets is how versatile they are in their appearance. Use them for takeout and delivery orders, or add them to your desktop. They never look out of place!
In conclusion
Disposable cutlery sets provide great convenience for food service, restaurants, B&Bs, and other food service establishments. They eliminate the need to clean dishes after each guest service and do not have to be replaced if lost. Not to mention, they're easy to add to takeout bags so you don't have to rummage through the cutlery storage area for little dessert scoops.
Cutlery sets include a wide variety of cutlery that can be paired with multiple meals or used to eat several dishes. Each dish includes a pre-packaged cutlery set, allowing customers to keep everything they need at their fingertips. They can also save you time arranging venue setup or packing meals to ensure you get your guests' orders out quickly. If you want to buy a disposable wooden cutlery set, welcome to
contact us
.
Greenwood is a professional
custom disposable wooden tableware manufacturer
. We have been developing and producing biodegradable disposable wooden tableware for 20 years. The products cover 116 types of bamboo and wood disposable tableware in 10 categories. At the same time, Greenwood's R&D center is also constantly studying the market demand and developing more wooden disposable tableware styles that are close to the market demand.